ODD LOTS • Vienna / Ljubljana • Exhibition • 17.03. – 14.04. • MGBS Ljublijana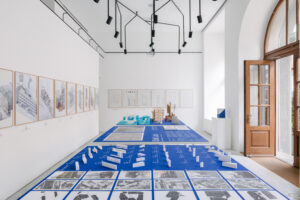 Exhibition • 17.3. – 14.04.2022 • MGBS • Ljubljana 
Lots that are perceived as too narrow, too long, inaccessible, dark or in any other way unusual and unattractive for commercial use hold potential that can be activated with alternative approaches. Such new, unexpected and innovative programmatic and architectural solutions can change the way the city functions, as well as its architectural landscape and public spaces. 
In times marked by social, environmental, political, health and other crises – starting points of these architectural interventions – these student projects, along with their unusual settings, represent architectural, typological and programmatic solutions. 
The project was created in a dialogue between the students at the Faculty of Architecture of the University of Ljubljana and the Faculty for Architecture and Planning of TU Wien. Students of both faculties discussed locations in both cities, Ljubljana and Vienna, and dialectically brought fresh insights to those locations.
Vienna University of Technology, Faculty of Architecture  
MENTORS  
Prof. Tina Gregorič, Dipl.Ing. M.Arch (AA Dist)  
Univ.Ass Gordon Rieß-Selbach, MSc  
Univ.Ass Katharina Urbanek, Dipl.-Ing.  
Francesca Lysann Klute, Tutor 
STUDENTS  
Kim Josée Colette Gubbini, Mykhailo Zhuk, Emília Mária Kigyós, Merve Kurt, Lukas Prokosch, Merlin Frühwald, Hannah Luca Kögler, Luisa Zwetkow, Simge Pehlivan, Ronja Barz, Magdalena Berger, Erik Deim, Feena OLeary, Fabian Fröhlinger, Klemen Gomiscek, Maximilian Venturo, Rachel Meagher, Pauline Krizmanich, Julia Claudia Herrmann, Laurin Valentin Sommer, Paul Kaspar Kramer, Johanna Schwarz, Laura Marjanovic, Dóra Komáromi, Sara Morelli, Leah Julia Walsh  
University of Ljubljana, Faculty of Architecture  
MENTORS  
Prof. Vasa J. Perović, univ. dipl. inž. arh. MA (BIA) Asist. Anja Vidic, univ. dipl. inž. arh.  
Štud. asist. Andraž Tufegdžić, abs. arh.
STUDENTS  
Tinkara Bizjan, Anton Jakob Bonča, Martin Debeljak, Ema Durakovič Koprivnik, Luka Korošec, Pavlina Košir, Klara Barbara Krajnc, Kaja Križaj, Zoja Leskovšek, Ajda Lukman, Eva Lupše, Vanesa Maček, Hana Mihelčić, Aleksandar Mišković, Lovre Mohorič, Klemen Mraz, Neža Napret, Benjamin Ocvirk, Eva Petruna, Aina Radovan, Lucija Ritoša, Ana Marija Snoj, Zala Vučko, Nika Žigon  
Exhibition:  
MGBS, Mala Galerija Banke Slovenije, Slovenska cesta 35, 1000 Ljubljana  
Tue – Sat 11AM – 7PM