Manon Mollard – Critical Thinking in Critical Times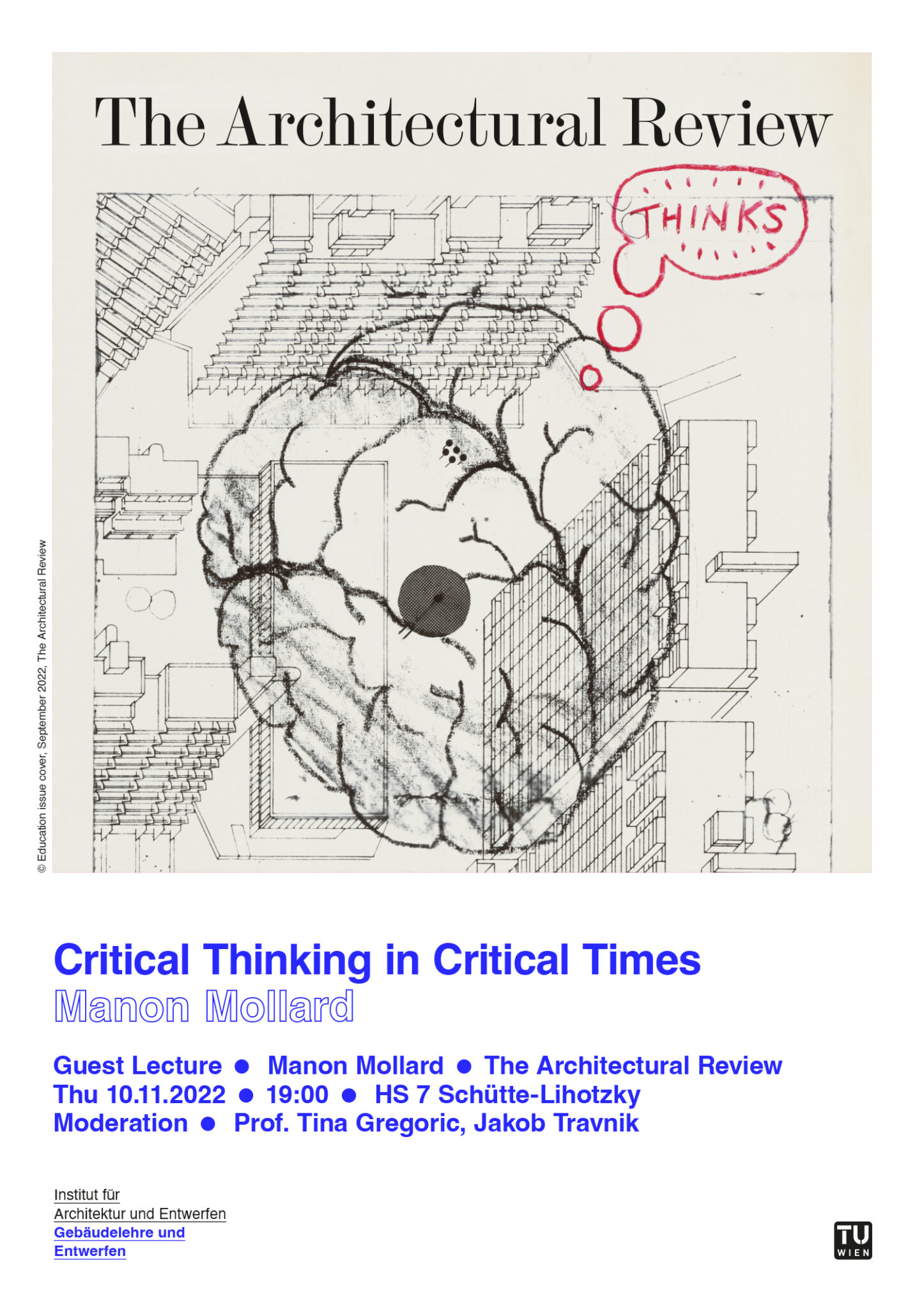 Manon Mollard
is the Editor of The Architectural Review. She is a graduate from the AA School of Architecture and currently lives and works in London. Beyond the AR, she writes for other international publications, is a guest critic at architecture schools and has recently collaborated with institutions such as the Trienal de Lisboa, the Royal Institute of British Architects and the Canadian Centre for Architecture.
Architectural Review

Founded in 1896, The Architectural Review has a proud tradition of challenge and criticism, scouring the globe for architecture that provokes and inspires, and offering its unique perspective on the biggest issues of our time – from ecology to gender to social justice.

The AR tells the story behind buildings, and the complex layered contexts into which they are woven. Projects old and new are chosen as prisms through which arguments and broader narratives are constructed. Each issue places architecture within a larger world, engaging with ideas and conditions to assess the impact of architectural decisions. Coming at architecture from a slight tangent, the filters of waste, education, animals, collage or energy drive editorial choices and look at the bigger picture. Outrage denounces architectural misdeeds and Reputations looks back at the life and work of significant characters to break with historic canons, while Typology compiles short histories of everything from market halls to public toilets to housing estates.
In print, online, in film and on podcast, the AR continues to be a leading authority on contemporary architecture and architectural culture.
Lecture focus

From the Latin publicus / publicare, to publish is to make publicly known, to reveal, announce and divulge. For most of their existence, the main purpose of the AR and other journals of record was to present recently completed buildings from around the world, often previously unseen and always deemed significant. Recently – a decade or so ago – there has been a shift in the ways building studies are written and the filters used to determine which projects get published.
Publishing what is new no longer holds the same relevance – novelty belongs online, where images of new buildings travel fast and far. This shift in pace and platforms inevitably forced print publications to adjust and revisit their agendas. It kindled an accrued responsibility for magazines to document, to interrogate and to revisit. In its pages, the AR is less interested in the architect's intentions, preferring instead to examine the wider forces that shape architecture, to understand why and how buildings are made, and what impact they have on the world.
Criticism is more than 'making publicly known'. It must have a purpose, it must be useful – to interpret, to denounce, to translate. It must tackle wider issues, resonate beyond buildings' walls and extend outside architects' control. Buildings are constructed on site, but architecture is constructed in the discourse.
The lecture can be (re)watched on our Youtube-Channel.
Quelle: Education issue cover, September 2022, The Architectural Review
https://www.architectural-review.com/
https://www.instagram.com/thearchitecturalreview/