Design the design process! Gastvortrag Schenker Salvi Weber – Dietrich Untertrifaller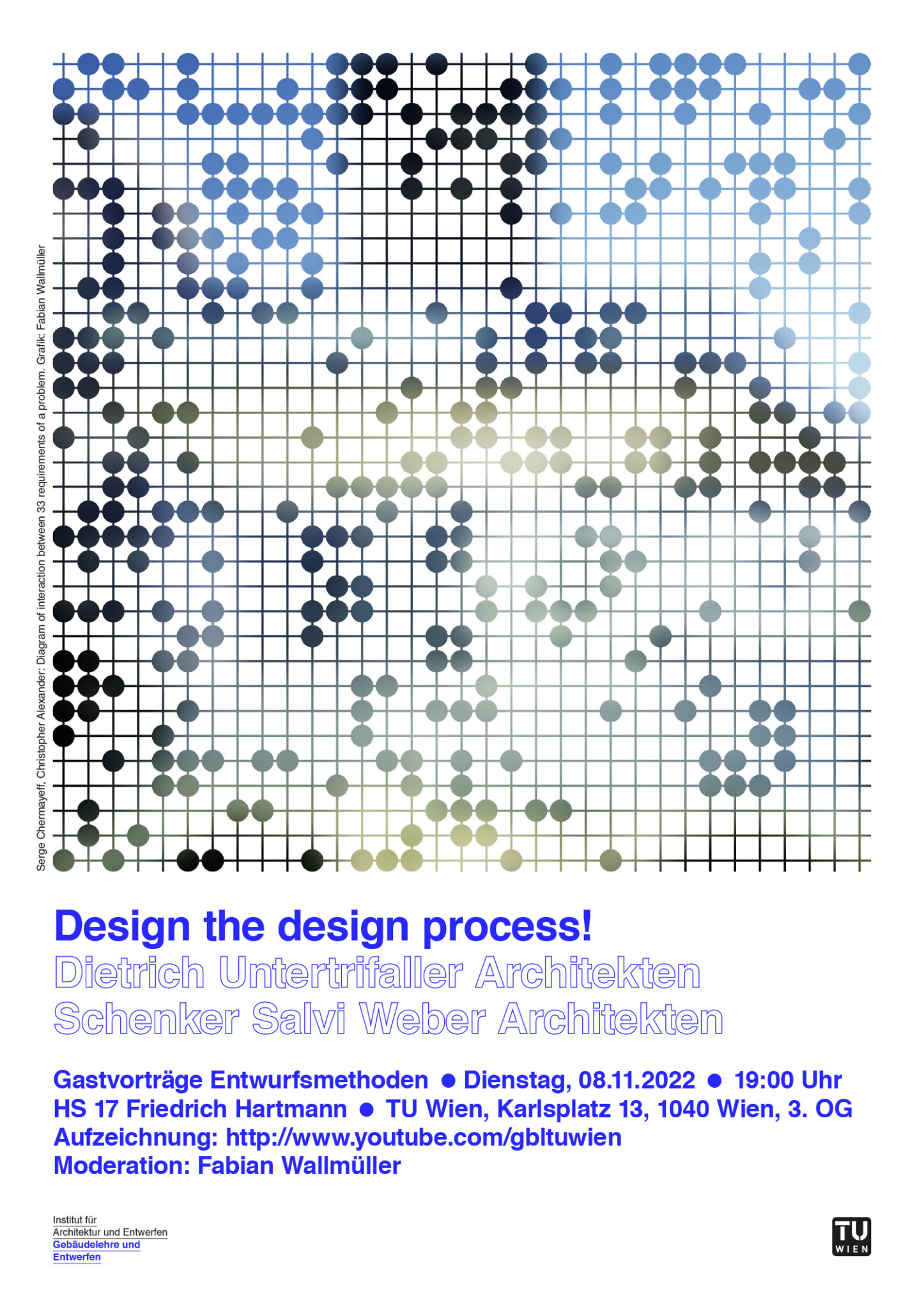 Entwerfen heißt gestalten, aber wie gestalten wir den Entwurfsprozess? Mit welchen Werkzeugen entwerfen wir, mit welchen Methoden analysieren, recherchieren, experimentieren, bewerten und entscheiden wir im Entwurfsprozess? Und überhaupt: Wie ergebnisoffen ist dieser Entwurfsprozess, und wie flexibel das gebaute Resultat in Hinblick auf sich ändernde Rahmenbedingungen und Nutzungsverhalten?
Im Rahmen des Fachs Entwurfsmethoden veranstaltet der Forschungsbereich Gebäudelehre und Entwerfen an der TU Wien Gastvorträge zeitgenössischer Architekturgruppierungen, die in Kurzvorträgen über ihre eigenen Strategien des Entwerfens sprechen und in einem anschließenden Gespräch zur Diskussion stellen. Gäste der aktuellen Ausgabe dieser Vortragsreihe sind Dietrich Untertrifaller Architekten und Schenker Salvi Weber Architekten.
Dietrich Untertrifaller Architekten

"In der Ruhe liegt die Kraft": Dietrich Untertrifaller Architekten sind ein seit 1994 international tätiges Architekturbüro mit Wurzeln in Vorarlberg, 130 Mitarbeiter:innen und Bürostandorten in Bregenz, Wien, St. Gallen, Paris und München. Bekannt für Bauen mit Holz, verweigern sich Dietrich Untertrifaller dennoch der Spezialisierung: Das Spektrum ihrer Projekte reicht von großvolumigen Bauten und städtebaulichen Strukturen über das Bauen im Bestand bis zum Einfamilienhaus. Ihre Arbeitsweise basiert auf einer dialogbasierten Beziehung zu Auftraggeber:innen, Handwerker:innenund Planenden sowie auf der Zusammenarbeit mit lokalen Büros und regionalen Partner:innen bei internationalen Projekten. Dietrich Untertrifaller wurden mit zahlreichen Preisen ausgezeichnet, darunter dem Wiener Wohnbaupreis, dem Prix National Construction Bois und dem österreichischen Staatspreis für Architektur und Nachhaltigkeit.
Schenker Salvi Weber Architekten

"Wir hinterfragen unsere Projekte immer und immer wieder – bis wir die für uns kreativste und beste Lösung gefunden haben." Schenker Salvi Weber Architekten wurden 2009 gegründet und sind mit rund 50 Mitarbeiter:innen an Bürostandorten in Wien und Bern tätig. Der Schwerpunkt ihrer bislang in Österreich, Deutschland und der Schweiz realisierten Projekte liegt im Wohn-, Büro- und Schulbau. Ihre Arbeitsweise beschreiben Schenker Salvi Weber als "einen partnerschaftlichen Prozess, mit dem Ziel, ein ideales Projekt entstehen zu lassen." Schenker Salvi Weber wurden mehrfach mit dem Best Architects Award, dem Staatspreis für Architektur und zahlreichen weiteren Preisen ausgezeichnet
The lectures can be (re)wachted on our Youtube-Channel.
(Quelle: Serge Chermayeff, Christopher Alexander: Diagram of interaction between 33 requirements of a problem. Grafik: Fabian Wallmüller)