Designing for Paris – Final Presentations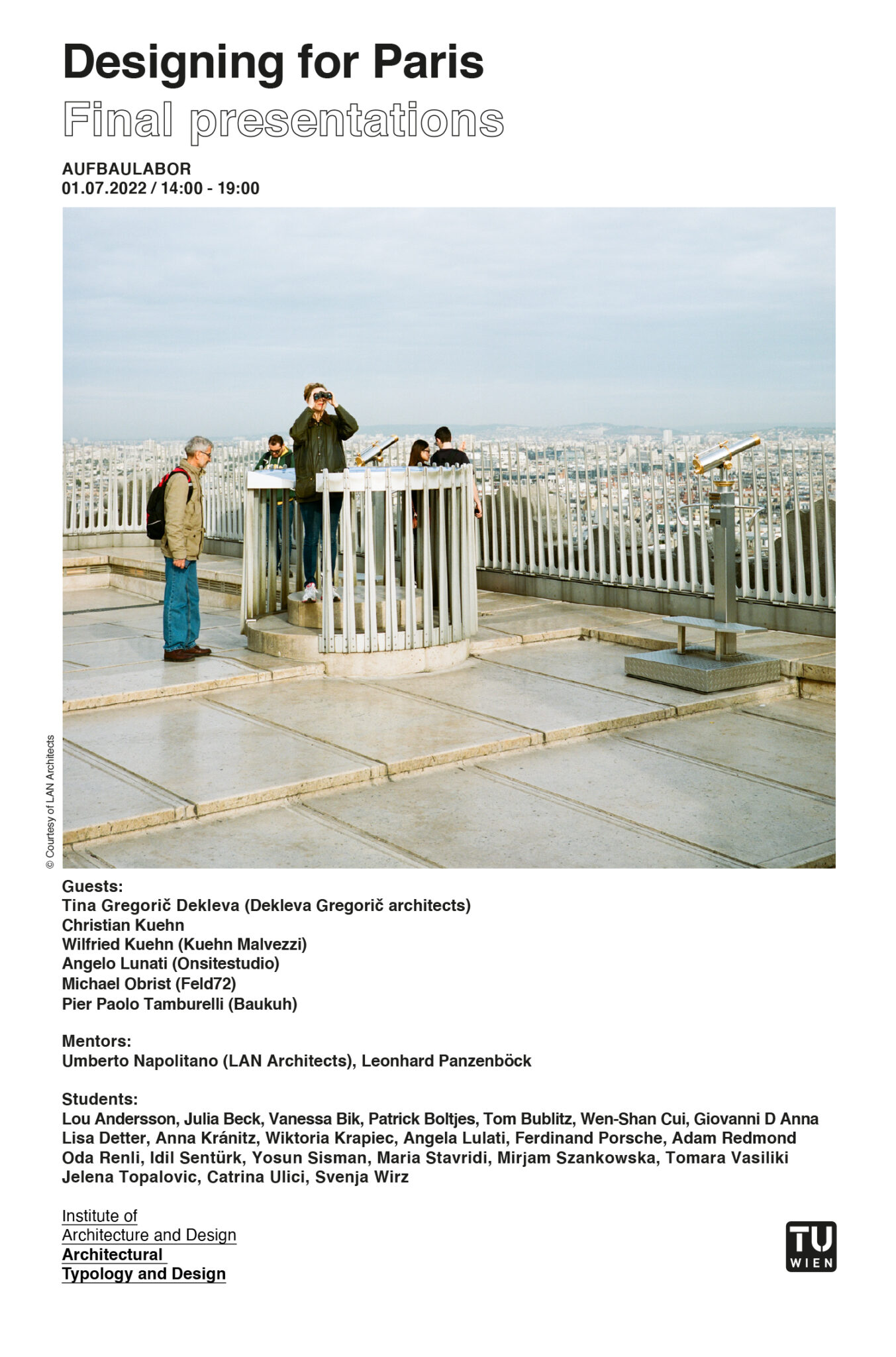 In the spirit of Joël de Rosnay, who in 1975 called for the definition of a new tool for observing and grasping the infinitely complex, we think it is appropriate to develop a tool for building cities that is at once conceptual, methodological, and operational to enact these values and fulfill the current physical, social and environmental challenges of our cities.
The urban fabric of Paris and its buildings are a powerful source of inspiration for the design of this tool. Paris is the densest city in Europe in terms of population and human density – meaning inhabitants + jobs and among the 5 densest cities in the world. At the origin of this model are the work and thoughts of a central figure, Baron Georges-Eugène Haussmann. From 1853 to 1870, as Prefect, he completely reformulated the foundations of the city according to the values of modernity of the nineteenth century. If we consider the size of the urban fabric involved (75% of the built environment) and the speed of the works (in less than 20 years), we can easily consider its intervention as a new fully planned and designed city project.
With an eye to current challenges, one can decipher the properties of Haussmann's urban fabric through a process of dissection, classification, and comparative analysis. At each level and according to each component, the urban fabric of Haussmann's Paris expresses a set of characteristics guaranteeing several fundamental balances: density and viability, permanence and resilience, sobriety and diversity, connectivity of long and short distances, identity and universality, intensity and a welcoming urban spirit, and between attractiveness and inclusiveness.
This unit will study these features based on the experiences that students will draw from several projects in Paris. The goal is to establish a reciprocal link between the architecture and the city and to thereby consider the architectural project as part of a larger composition where each piece expresses the values of the whole.
This is not an urban planning class or a dogmatic exercise in the notion of context. Throughout this semester, we will erase the limits between the different scales and disciplines to place the architectural project once again at the center of urban challenges and opportunities.
PLANNING FOR PARIS
In concrete terms, the project will be applied using an extremely realistic approach. Students will receive specific programs, planning regulations, accessibility requirements, and fire safety regulations for the site. Students will begin with «a real framework» to learn how to get out of the ordinary, to find their own freedom in this very constrained system.
Guests:
Tina Gregorič Dekleva (Dekleva Gregorič architects)
Christian Kuehn
Wilfried Kuehn (Kuehn Malvezzi)
Angelo Lunati (Onsitestudio)
Michael Obrist (Feld72)
Pier Paolo Tamburelli (Baukuh)
Mentors:
Umberto Napolitano (LAN Architects), Leonhard Panzenböck
Students:
Lou Andersson, Julia Beck, Vanessa Bik, Patrick Boltjes, Tom Bublitz, Wen-Shan Cui, Giovanni D Anna Lisa Detter, Anna Kránitz, Wiktoria Krapiec, Angela Lulati, Ferdinand Porsche, Adam Redmond Oda Renli, Idil Sentürk, Yosun Sisman, Maria Stavridi, Mirjam Szankowska, Tomara Vasiliki Jelena Topalovic, Catrina Ulici, Svenja Wirz